Comfortable sitting thanks to Outlast®
A balanced microclimate is also important for the upholstery industry. Sweating less on a sofa or office chair significantly increases comfort. Materials with Outlast® thermo-technology are able to absorb and store excess heat and release it again if necessary.
Where can Outlast® thermo-technology be used?
Sofas and upholstered furniture
Office chairs
Wheelchairs
Seats and covers for motor vehicles and trains
Car seats and seat covers
Baby carriers, child seats, and covers
And many other possible uses...
Contact usto find out more!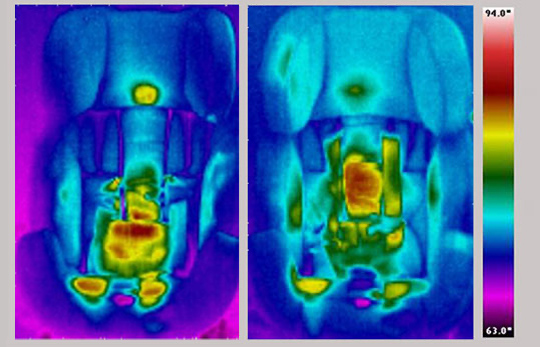 Comfortable sitting – no sweat!
Increased comfort can be achieved by using materials with Outlast® thermo-technology in seating. The infrared image on the left shows a child seat with and right without Outlast® thermo-technology after the child has sat in it for the same amount of time.
You can see that the child seat with Outlast® heat management is significantly cooler than the seat without Outlast® thermo-technology. The microencapsulated natural wax processed in our fabrics absorbs and stores excess heat. This reduces the development of heat, and ultimately also moisture, on the skin.
Stay cool when the game heats up
If you spend a long time sitting, it's important to find the perfect chair that offers comfort and doesn't make you sweat too much.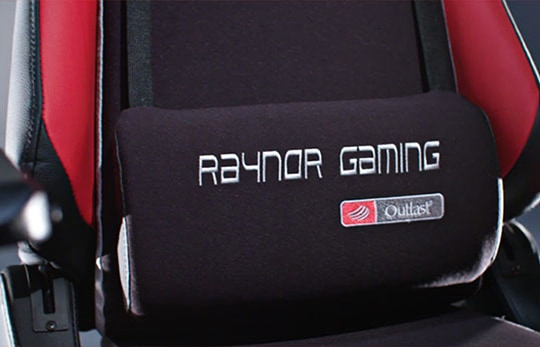 If you are an "NBA 2K League" player, this could be a crucial advantage in an important match. To meet the needs of players, the NBA 2K League has joined forces with chair specialist Raynor Gaming and high-performance textile manufacturer Outlast. The players of the sponsored teams use the gaming chairs from the Raynor Group, which contain the Outlast® thermo-technology and are specially designed to react to body temperature during intensive scrims and tournaments.
raynorgaming.com