Refreshingly cool
With fresh2SKIN® Outlast is providing an innovative, exciting finishing technique for almost any kind of textile. fresh2SKIN® brings about a very pleasant cooling effect for the wearer of the textile, which is activated by the use of natural menthol. In combination with the Outlast® thermo-technology and the outstanding hydrophilic properties, fresh2SKIN® offers long-lasting comfort at warm temperatures.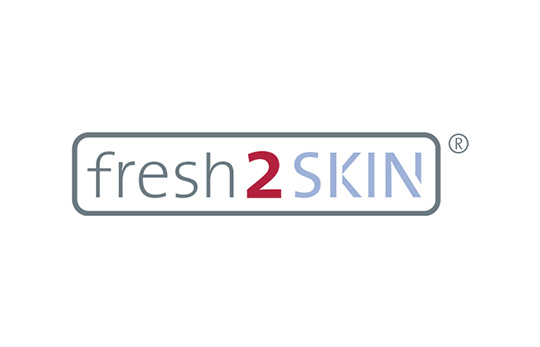 A wide area of use
fresh2SKIN® supplements the Outlast® range of "next-to-skin" solutions. Like Outlast® MIC (Matrix Infusion Coating) and the Outlast® in-fiber technology (polyester, viscose, and acrylic), fresh2SKIN® is intended for products worn close to the skin, such as underwear and nightwear, shirts, socks, and trousers, as well as for bedding, making it perfect for the apparel and bedding market.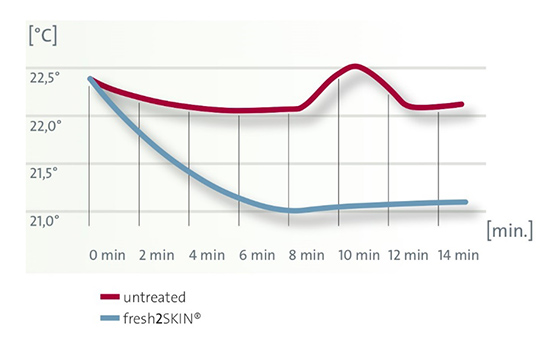 How did that work?
Cold receptors in the skin respond to menthol. The sensory stimuli resulting from this feel pleasantly cool to the user. In a research project by Hohenstein Laboratories GmbH & Co. KG, the noticeable cooling effect with the use of menthol was confirmed (textiles with sensory cooling effect – AIF project No. 18181N; July 2016).
Application
fresh2SKIN® is applied using a conventional foulard process, which is simple and economical for textile manufacturers. No special equipment or specific manufacturing tools are required. fresh2SKIN® can be applied to cotton, cotton blends, synthetic fabrics, and knitted or woven fabrics.
Properties
Temperature and moisture management with the Outlast® thermo-technology
Cooling effect through the use of menthol
Outstanding hydrophilic properties
Antistatic effect on synthetic materials
No impairment of the fabric's drape
Soft, pleasant feel
Hard-wearing (good durability, even after multiple washes at low temperatures up to 40 °C)
Can be combined with additional properties (e.g. antibacterial)
Standard 100 by OEKO-TEX®, class 1 (if the base material is certified)
Skin-friendly and dermatologically tested